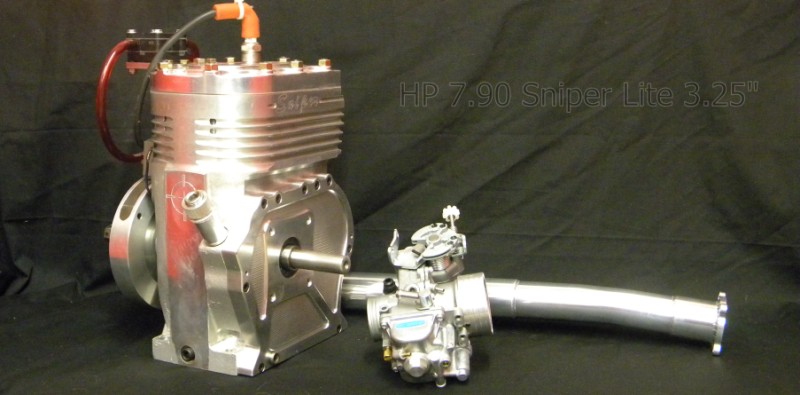 For some racers stepping into the 7.90 world this engine is perfect. It does not have to carry 100+ lbs in most situations, and is very user friendly for the crew chief. The beefy internal components allow this motor to make 200 runs without any concern of breakage or consistency loss.
Full list of 7.90 Sniper Lite 3.25" Features:
Virgin 356 T-6 Aluminum Sniper Block 1" ARC Billet Crankshaft
CNC Cylinder Head, Manifold, Ports 3/8" Clutch Bolt Hole in Crankshaft
3.25" Bore x 3" Stroke HP Custom Dyno Camshaft
Titanium Valves w/ Beryllium Copper Seats HP Prepped 40 mm Mikuni
5/16" Oversized Billet Lifters 3 Stage Coated Header
ARC Rod and Adjustable Flywheel Complete Fuel System
Comp Valve Springs
The HP 7.90 Sniper Heavy 3.25" is a complete motor. Simply add oil, your clutch, and your racecar to go race. Expect 7.90's at 410+ lbs.
HP 7.90 Sniper Lite 3.25" Price - $4,600