Jonathan D'Aprile Finds First Career Winner Circle, Great Driving and HP 8.90 Turn-Key Lead the Way
Jonathan D'Aprile joined the HP Family at the end of 2015 with his slick Carbon Fiber HP 8.90 Assassin Turn-Key Car. He immediately found himself going rounds, and this past weekend he found his first Winner Circle!
Jonathan has been going a ton of rounds since taking delivery of his hot rod. This weekend he left no doubt who the best racer was as he was nearly perfect in the final round. He was off the starting line with a great .004 reaction time, then pedaled his way to a 1 above 8.955 on his 8.94 dial for the race win!
We want to send a huge congrats out to Jonathan on his first victory, we look forward to many more from him and the entire D'Aprile Team!
---
Clayton McGinnis Grabs First Victory of 2016 Fresh off Championship 2015 Season
Clayton McGinnis kicked off his 2016 season much the way he ended 2015, sitting in the Winner's Circle at Gateway International Raceway. The veteran HP 7.90 Lite Package racer earned the 2015 Track Championship, and looks to be on pace for a repeat in 2016.
Clayton worked his way through a tough field of competitors at Gateway to earn yet another victory. A day full of consistent E.T.'s and great reaction times helped him march right through the field to find himself in a familiar spot at the end of the day!
We want to congratulate Clayton and the entire McGinnis Team on a great outing!
---
Jake Metternich Earns Second Win of 2016 In As Many Outings with HP 8.90 Sniper Jr. Package
Jake Metternich and his HP 8.90 Sniper Jr. Package have started the 2016 on fire at Gateway International Raceway. After grabbing his first win 2 weeks ago, Jake and his team were back in the Winner's Circle this past weekend!
In the finals Jake was able to drive both ends of the racetrack great to earn his second race win in as many outings. Jake's nearly perfect 8.938 on his 8.93 dial was enough to push his competition out, and earn himself a second trip to the Winner's Circle early on this season.
We want to congratulate Jake and his team on a perfect start to their 2016 campaign!
---
Makenna Brown Turns First Test N Tune into First Race Win of 2016 at Pacemakers Dragway
This past weekend marked the first outing for Makenna Brown and her team in 2016. In what started off as a Test-N-Tune for some new pieces they had on their HP 7.90 Lite Turn-Key Car, quickly turned itself into her going rounds for her first race win!
If the Brown Team had any off season rust, it didn't show through on this day. Makenna put together a string of nearly identical reaction times, and her HP Turn-Key ride repeated within thousandths all day to give her the race win!
We want to congratulate Makenna and her team on an outstanding start to their 2016 season!
---
Brady Fomby Picks Up Where He Left Off in 2015, Grabs First Victory of 2016 in HP 8.90 TK Car
For those of you who visit the HP website regularly, Brady Fomby is a name you see frequently here. Coming off a season of dominance last year in his HP 8.90 Assassin Turn-Key Car, Brady picked up in similar fashion this past weekend at Montgomery Raceway Park.
Brady marched through the field at MRP to find himself in a familiar spot, the Winner's Circle. A string of nice lights, and a repeating hotrod, allowed Brady to add yet another piece of hardware to his growing piles of trophies!
We'd like to congratulate Brady and his entire team on another great win!
---
Seymore Makes Long Day Worthwhile, Grabs Victory at Atmore Dragway with HP 7.90 Heavy Package
Mitchell Seymore and his team had a long weekend of racing, but by the end of it they were the last ones standing, making it worth the effort. Their weekend began at Montgomery Motorsports Park, and would end at Atmore Dragway with a victory using their HP 7.90 Heavy Package.
After racing late into the night at Montgomery Motorsports Park, Mitchell and his team hit the road early Sunday morning for Atmore Dragway. They started off strong, earning the first round bye with a great .006 light. That strength would continue all the way through the finals as Mitchell put a great package together for the win, going .024 on the tree and a nearly perfect 7.974 on his 7.97 dial!
Congratulations to Mitchell and his entire team on a great victory to end their weekend!
---
Jace Bynum Making It Look Easy, Grabs Second Victory of 2016 with New HP Pea-Shooter Combo
Jace Bynum has become a force to be dealt with in the South Georgia area since making the swap to an HP 11.90 Pea-Shooter Package over the winter. Coming into the 2016 season Jace was winning rounds, but couldn't quite get over the hump for race wins. That has all changed now.
Jace found himself visiting the Silver Dollar Raceway Winner Circle for the second time this season this past Saturday. A string of great lights, and a hotrod that barely moved on him was enough to earn Jace yet another victory early on into the 2016 season!
We want to congratulate Jace on another great outing!
---
Meredith Miller Grabs First Victory of 2016 in First Outing at Byron Dragway
Meredith Miller has been winning races for years now with her HP hardware. From her 8.90 Sniper Jr. days where she collected an Eastern Conference Finals Championship, to her current racing with an HP 7.90 Lite Package, she has won it all. Her 2016 season started off in similar fashion as she grabbed the win in her first outing of the year!
Meredith kicked off 2016 at Byron Dragway this past Saturday night. Fresh off of getting her engine back from freshen up, Meredith made it look easy as she marched right through the competition in her first outing. After a day of great driving, and a consistent hotrod, Meredith found herself in the Winner's Circle collecting new hardware for her collection!
We want to congratulate Meredith and her team on an outstanding start to their 2016 season!
---
Mia Schultz Sweeps At The Rock, Qualifies #1 and Wins PDRA Top Jr. Class
The Schultz Team has been hard to handle over the past few seasons at PDRA events. Those difficulties for the competition have not changed in 2016, as Mia Schultz found the Winner's Circle early on at Rockingham Dragway for the PDRA Spring Nationals.
Mia kicked off the weekend by parking her HP 7.90 Lite Turn-Key Assassin in the #1 qualifying position for the Top Jr. class. That would parlay itself into a race win by the end of the weekend. In the finals Mia was great on both ends, taking a big starting line advantage with her .031 light, then pedaling her way to victory with a 7.942 on the 7.90 dial.
We want to congratulate Mia and her team on a great start to the 2016 season!
---
Huddleston Performance Lowmad Debuts AJPE 5300 Combo, Finds Winner's Circle at Memphis Super Chevy Show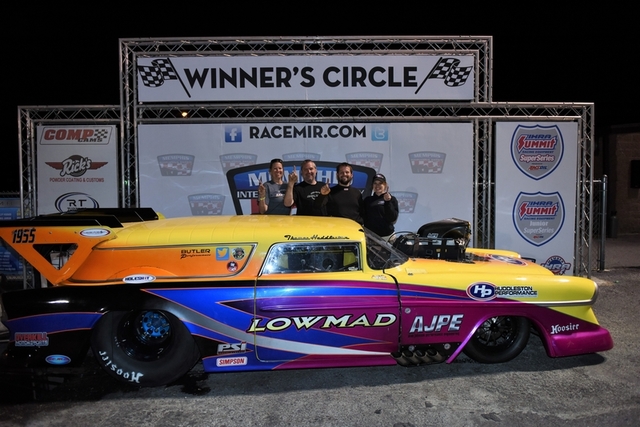 The Huddleston Family came into their opening race of the season with more questions than answers, entering the Memphis Super Chevy Show with a brand new AJPE 5300 engine between the historic wagon's framerails. As the weekend went on, the answers became more clear until they found themselves sitting in the Winner's Circle on the new combinations maiden trip into competition!

The weekend began promising as Thomas Huddleston put the Lowmad in the #2 qualifying spot with a nice 3.78 run early in qualifying. A conservative approach to the new package would prove to be the key on Sunday. High winds made things difficult for teams, but the Lowmad marched straight down broadway each run to find itself in the final round. The finals saw the Huddleston Team come up against Tim Segars and his Batman Team. It would be over early as Segars left the red light glowing, helping to put the Lowmad in the Winner's Circle for the first time with the Huddleston Team.

Lowmad Driver Thomas Huddleston couldn't have been more excited for the new combos performance and his first Pro Modified victory, "What a great weekend! We came into this deal with realistic expectations, but hopes we could make some noise with this new engine program. To qualify at the top of the pack and bring home the race win in our first outing is unbelievable. I'm excited to get more data on this combination, we have a lot of horsepower we just have to be smart enough to use it. The rest of 2016 should be fun as we figure out this 5300 combination."

The Lowmad Team would like to thank all of their 2016 Marketing Partners: Huddleston Performance, Alan Johnson Performance Engineering, PTC Converters, Butler Performance, OverKill Motorsports, Hoosier Tires, and DragCoverage.com.

www.HuddlestonPerformance.com
www.AlanJohnsonPerformance.com
www.PTCRace.com
www.ButlerPerformance.com
www.Butler-LS.com
www.OkMotorsports.com
www.HoosierTire.com
www.DragCoverage.com

Look for the Lowmad to be back in action this coming weekend for the first Southern Outlaw Tour event at Montgomery Raceway Park!

---
Huddleston Performance Becomes Presenting Sponsor of NHRA Western Conference Finals and Title Sponsor of WCF Fun Races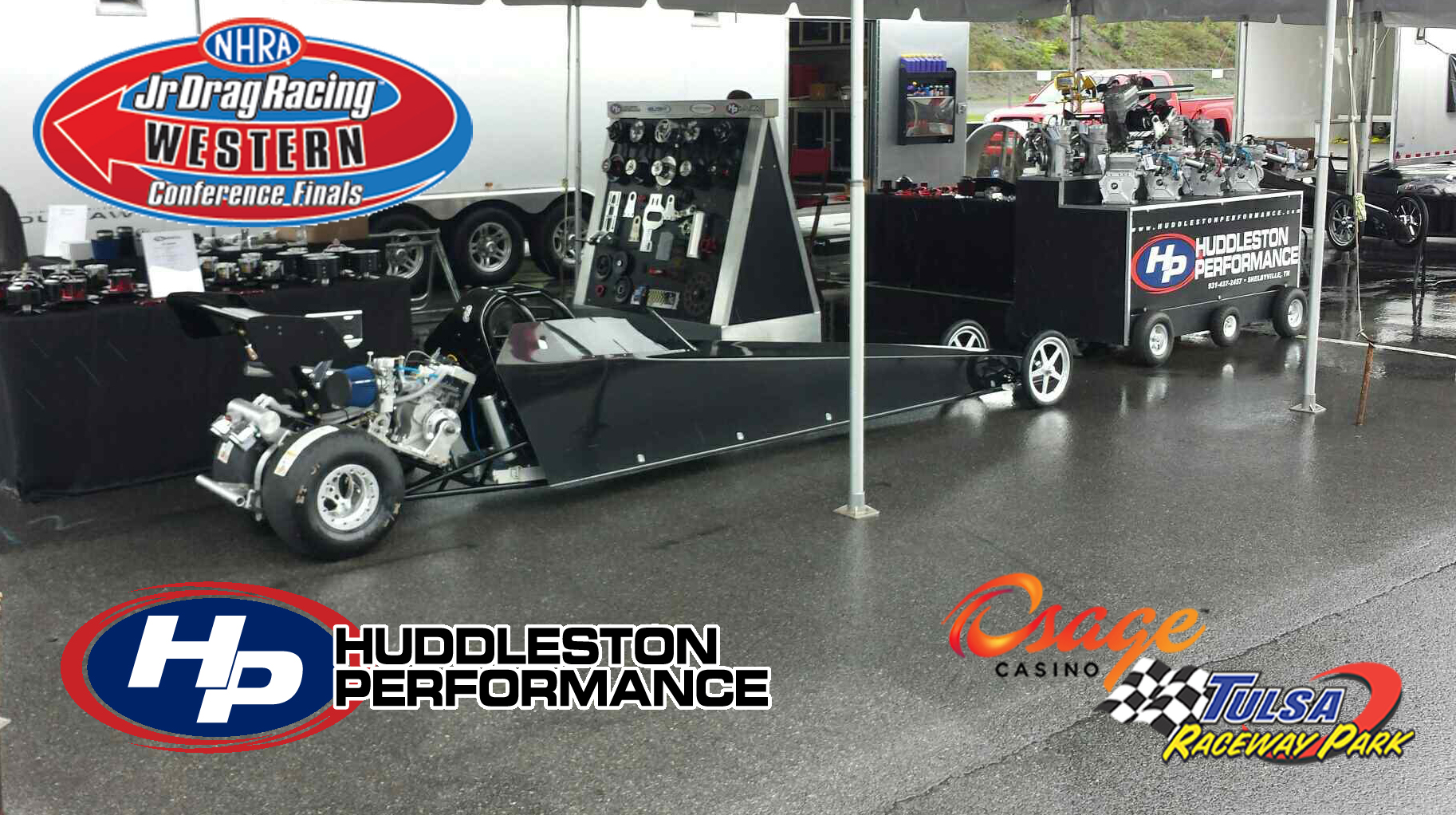 Huddleston Performance has spent many years helping to grow The Week at Thunder Valley held at Bristol Dragway. Seeing the Huddleston Performance Junior Nationals as well as the Huddleston Performance Fun Races nearly double in car count, the team at Huddleston Performance now expands their focus to help the Western Conference Finals at Tulsa Raceway Park attempt to reach that same level of competition.
The new partnership between Huddleston Performance and Tulsa Raceway Park sees a wide range of efforts being put forth during the Western Conference Finals. To open the week racers will be treated to 3 days of heavy racing action where Huddleston Performance will be the Title Sponsor. These days will allow racers to enjoy competing while preparing themselves for the ultimate prize, the Western Conference Finals.
In addition to the Title Sponsorship of the Huddleston Performance Fun Races, the HP Team also joins forces with Tulsa Raceway Park to become the Presenting Sponsor of the Western Conference Finals. One of the most prestigious races in all of Jr. Dragster racing, the Western Conference Finals gives racers an opportunity to compete on a national level. The combination of Huddleston Performance, Tulsa Raceway Park, and the NHRA Western Conference Finals looks to grow the event to rival its East Coast counterpart over the coming years.
Huddleston Performance owner Bo Huddleston is excited with the endless possibilities of the new partnership, "We couldn't be happier joining with the team at Tulsa Raceway Park. We've had the opportunity to get to know them over the past couple of seasons, and they are a group who has the best interest of the sport in mind at their facility. Bringing a big time Jr. Event out west that will mirror our Week at Thunder Valley is something we have wanted to do for a long time. When the WCF's moved to Tulsa it was a natural fit for all of us to work together to help this thing grow significantly. We are looking forward to heading west in June, and look forward to meeting a lot of new racers while we're there!"
Tulsa Raceway Park general manager Don Ellison equaled the Huddleston Performance excitement on the new partnership, "Tulsa Raceway Park is very excited to host the Western Conference Finals, bringing racers from across the United States and Canada to compete for the conference championship. In addition to the very best Jr. Racers, we are excited to be partnering with the very best Sponsors in the industry. Having Huddleston Performance come onboard to become the Title Sponsor for the three days of Fun Races and Presenting Sponsor of the Western Conference Finals is a great addition for us!"
The Huddleston Performance Team will be in full force for the event. They will have a full display with Turn-Key Cars, Engine Packages, Clutches, and all the Jr. Dragster parts a person could need. Mark your calendars for June 20-25, 2016 as one of the biggest Jr. Dragster events in the country invades Tulsa Raceway Park.
For full details on the event you can visit www.NHRA.com, www.TulsaRacewayPark.com, or www.HuddlestonPerformance.com.