New Article Archives Page on Huddleston Performance Site
For many years now articles have come and gone on the front page of our website. However, from now on you will be able to recall any of the articles that you have seen here. A permanent place has been added to the top right hand portion of your homepage specifically for past articles. So if you are a Racer who has won a race, or you're looking for information about previous products you've seen here, simply click the HP Article Archives above and find your story.
---
Jake Thurlwell Continues HP Success at PDRA Events, Captures Tulsa Pro Jr. Dragster Victory Under the Lights
HP Racers have had a strangle hold on the PDRA Pro Jr. Dragster class in 2014. That trend continued at the recently completely Under the Lights event held at Tulsa Raceway Park.
PDRA standout Jake Thurlwell was the latest to capture a victory with his HP 7.90 Lite Package. After opening the event by qualifying #11 in the ultra competitive field, Jake fought his way through an extremely tough field of racers to earn yet another victory. At 4 cars it was an all Huddleston Performance affair, Jake took care of teammate Emilee Novak for his berth in the finals. The finals saw a great battle, Jake was second off the line by a slight margin with his .056 to an .050. However, he had the hotrod to drive around on the big end as his 7.912 took the stripe over a 7.919.
Congratulations to Jake and his entire team on a great outing!
---
"Skull Crusher" Austin Carden Crushes Competition in First Outing with HP 7.90 Lite Package to Capture Wally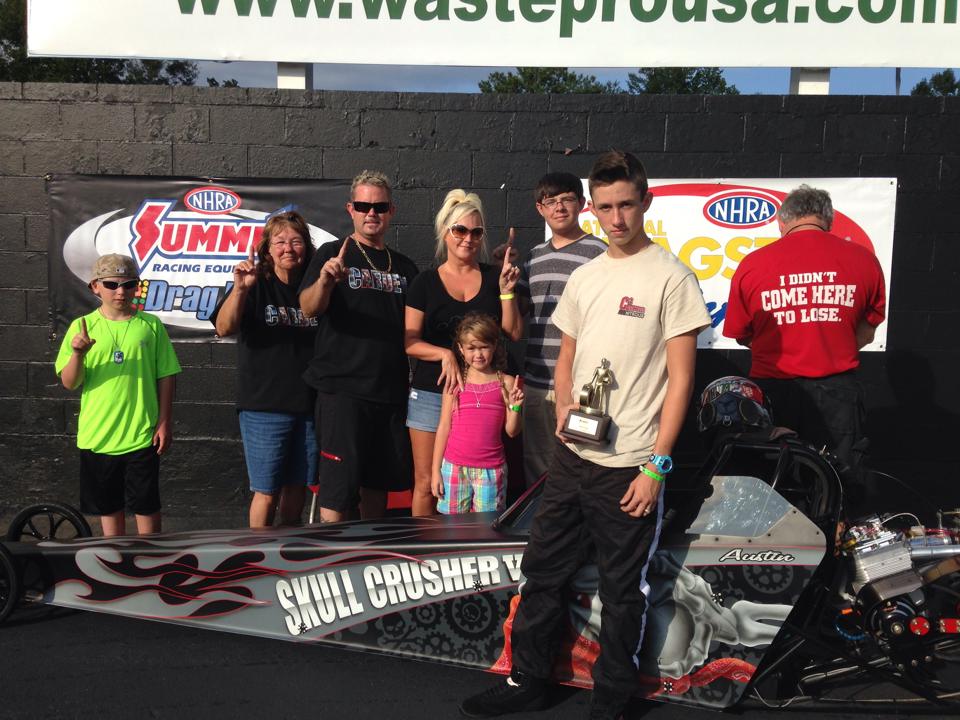 On one of the hottest weekends we have seen recently in the South, Austin Carden and his team unveiled their new HP 7.90 Lite Package at Atlanta Dragway this past weekend. A good test evening on Friday night prepared the Skull Crusher team for a nice weekend in the heat.
After testing Friday and running a points race Saturday, Austin and his team came into Sunday's Wally Race looking for a win. Another long hot day resulted in the outcome they were looking for, as they were able to fight through a tough field of competitors to capture the Wally.
Congratulations to Austin and his entire team on the first of many wins with their HP combination.
---
2014 HP Assassin Chassis' Under Construction, Nearly Ready For New Homes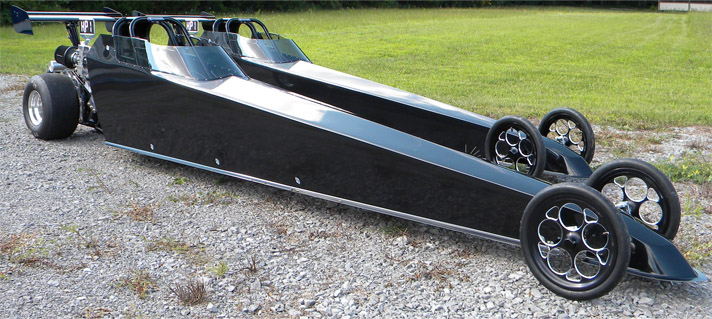 We are constantly working to keep everything we offer in stock and ready for immediate shipment. That even includes Racecars! We nearly got ahead of the curve with the 2 cars you see listed above, but were unable to do so as these both have a new home.
However, for those of you in the market for a new 2014 HP Assassin Chassis we are working hard on a pair of new ones! These new rides are scheduled to be completed in the next 3 to 4 weeks, and can still be completely customized to fit your specific needs. Blackout options, Beadlocks, Wings, Canopies, Extra Weight Bars, whatever you need we can fit to your new car.
Call today to discuss your specific options and needs. Any of our HP Assassin Chassis can always be made Turn-Key as well, for base pricing check out our Turn-Key Car Page. If you're in the market for a running ride from 13.90 to 7.90 give us a shout to get started!
---
Jarrod Kissinger Wins 2014 Eastern Conference Finals 12 Year Old Age Group in All Huddleston Performance Final Round
Jarrod Kissinger and his team have been a handful for racers in the Northeast ever since joining the Huddleston Performance family. This year they brought their tough skill and awesome race car to Bristol looking to do some serious damage in the 12 Year Old Age Group.
At the conclusion of Saturday's Eastern Conference Finals, damage is exactly what they'd done. In the finals Jarrod brought his HP 8.90 Sniper Jr. Package powered hotrod to the starting line to face off with good friend and fellow HP 8.90 Sniper Jr. racer Ben Spotts. Both drivers had been good on both ends of the track all day and had outstanding racecars. However, on this weekend Jarrod would not be denied the Wally. When the tree dropped he took the starting line advantage and never looked back as he led the entire way to capture the Bristol win light!
We want to send a huge congratulations to both Jarrod and his team, and also Ben and his team on an outstanding day of racing! We're proud to have both of your representing our HP 8.90 Sniper Jr. Packages at the biggest race of them all. Great job guys!
---
Hannah Taylor Grabs SGMP Win In 2013 HP Assassin Turn-Key Car
Hannah Taylor has been nearly unstoppable in the South Georgia area since taking the wheel of her 2013 HP Assassin 8.90 Turn-Key Car last season. After a number of race wins, Hannah found herself in a familiar place this past weekend at South Georgia Motorsports Park.
Miss Taylor found herself in the final round of Saturday's program. After a stellar .007 light, she settled for the Runner-Up finish by .001 seconds with her 8.949 on the 8.95 dial. However, that prepared her well for Sunday's event. She came out in full force and was able to take home the race win, nearly taking the double up weekend!
Congratulations to Hannah and her team on a great weekend of racing!
---
Makenna Brown Continues Strong Season, Doubles Up At Pacemakers Dragway
Makenna Brown may be having her best season yet as a Jr. Racer. Multiple local victories, and a number of round wins at some of the biggest events of the season have put her 2014 season on a great track. Saturday she continued her strong performance by taking home both wins at Pacemakers Dragway.
She opened the day by handily driving her HP 7.90 Lite Package through the tough field of Major Class competitors. At the conclusion of that race they jumped into the Second Chance race, and were again able to mow through the field and find the Winner's Circle for a second straight race!
Congratulations to Makenna and the entire Brown team on an outstanding day at the races!
---
Shelby Hamilton Making a Hobby Out of Winning Wallys, Collects Pacemakers Jr. Challenge Wally
Shelby Hamilton and her team have been on a tear collecting Wally's since making the switch to HP hardware in mid 2013. As most racers search a lifetime for the elusive Wally trophy, Shelby has started a collection of them over this season.
Her latest addition came at this past weekend's Pacemakers Jr. Challenge event. She marched through a tough field of competitors to find herself in yet another Winner's Circle with her HP 7.90 Lite Package.
Congratulations to Shelby and the entire Hamilton team on yet another awesome victory!
---
Austin McClure Takes Huge Victory at Bristol with SEJRA 15-17 Age Group Win
Austin McClure and his team marched their way right through one of the toughest 15-17 Age Group fields ever assembled at the SEJRA Event at Bristol this past weekend. In a class that saw over 160 entries, Austin was able to bring home the hardware with a string of great lights and deadly consistent passes. In the finals the HP 7.90 Lite powered ride continued strong as Austin was .037 on the tree and ran closer to his dial with a 7.98 on his 7.96 dial.
Congratulations to Austin and team McClure on winning one of the toughest series classes we will see all season!