Alexcis Schultz Continues Great 2014 Season, Takes Iron Man Classic at Sumerduck Dragway
Alexcis Schultz has had a great 2014 season since taking delivery of her 2014 HP Assassin Turn-Key Car. A number of wins throughout the East Coast, and a number of #1 qualifiers at the PDRA, have made her a threat at any event she attends.
This past weekend her team made the relatively short drive to Sumerduck Dragway for their Iron Man Classic. After a long day which saw Alexcis having to be victorious in 6 rounds, she found herself in the Winner's Circle yet again. This time she had earned one of the most prestigious trophies in drag racing, the IHRA Iron Man.
We'd like to congratulate Alexcis and her team on an outstanding year of racing!
---
Latest Added FAQ: Does Huddleston Performance Work on Other Brands of Engine?
In our continued efforts to grow the FAQ section of the website, and make it the most thorough learning center in Jr. Racing, we are often presented with this question:
The short answer to this question is: Yes, Huddleston Performance does work on nearly all other brands of engines.
However, like with most things, there is a more detailed answer to this question which will help you to know what to expect at Huddleston Performance. While we do freshen most other brands, there are some out there which simply are difficult to freshen. Parts availability, ease of doing business, and overall layout of the engine make a very small amount of engines something which Huddleston Performance does not do work on. This applies to a very small number of Jr. Engines out there today so don't hesitate to call and ask about your specific combination.
Also, we want our customers to know what they are getting up front. Here at Huddleston Performance we put the best into every engine that comes through the door. While that may not be the same parts in every layout of engine, we do our homework on your specific combination to ensure that you get the most life out of your parts. In short, if we wouldn't race it then we won't put it back into your motor, things such as:
1. We open your motor to see it has an 8 year old 7/8" crank with visible signs of stress.
2. Something has broke in your motor, while the camshaft runs true, it has clearly been hit in the breakage.
3. Titanium Valves which have been run with no lash caps have beat the tips off of them.
These are just a few examples of things which Huddleston Performance sees in other brands of engine and will not put back out the door to you the racer. While it may seem like a savings at the time of freshening, this type of work is much more costly to you in the long run. However, as with all motors that come into the Huddleston Performance doors, we will call you before any work has begun to discuss the quote on your motor and what parts are needed.
---
New 2015 HP Assassin Chassis Coming Soon, Black Ops Series Option To Make Debut

We have a pair of new 2015 HP Assassin Chassis set to begin assembly very soon. These new cars can be finished to any spec you'd like. One of the cars is our base 2015 HP Assassin, which can be optioned up any way you'd like for the 2015 season.
The second car will see the introduction of our new 2015 Black Ops Series option, which is sure to turn heads everywhere. This new car will feature all the options available on our HP Assassin Chassis splashed in a mix of unique powder coating shades, the newly unveiled Carbon Fiber body and seat will be standard, as well as a large amount of anodizing and contrast cutting throughout the car! As the HP Assassin Chassis did a few seasons ago, the Black Ops Series HP Assassin will set a new standard for the Jr. Dragster Chassis. You won't want to miss the photos of this new ride as it comes together.
If you are in the market for a car for 2015, don't miss out on these 2 new rides. They can be completed from Rollers to Turn-Key in any configuration your team needs. Call today to get started on your next Championship Winning Ride.
---
Mia Schultz and Preston Tanner Earn SEJRA Points Championships in 2014
Preston Tanner and Mia Schultz have both drove the wheels off their HP Assassin Turn-Key Cars in 2014. Both have won multiple races in the SEJRA, PDRA, Midwest Series, and IHRA Divisional. This weekend they each finished their SEJRA Season strong by capturing a Championship in their Age Group!
Mia started the weekend off right by capturing the 10-12 Year Old Championship. A win to start the season at US 43 Dragway sent her season in the right direction from the beginning. Capturing round wins at both Music City and Bristol all but sealed the deal coming into the SEJRA Memphis event. By entering the race, Mia made it nearly impossible for second place racer Lexi Tanner to catch her. In addition to Mia, we'd also like to congratulate second place finisher Lexi Tanner and third place Brady Fomby. Both Racers also compete in our HP 8.90 Assassin Turn-Key Cars!
Preston Tanner followed Mia's lead by capturing the 13&Up Age Group Championship later that same day. A points race which saw a lot of good racers aiming for the top spot, Preston was able to come out victorious at the conclusion of the Memphis Race. Like Mia, he opened his season with a win at the SEJRA US 43 Dragway event and never looked back. Round wins at the remaining races were enough to keep him out in front of his competition for the championship!
We'd like to congratulate both Preston and Mia for representing the HP Brand so well in their HP Assassin Turn-Key Cars this season! We look forward to your continued success in 2015!
---
HP Racers Capture Wins at Final SEJRA Points Race at Memphis International Raceway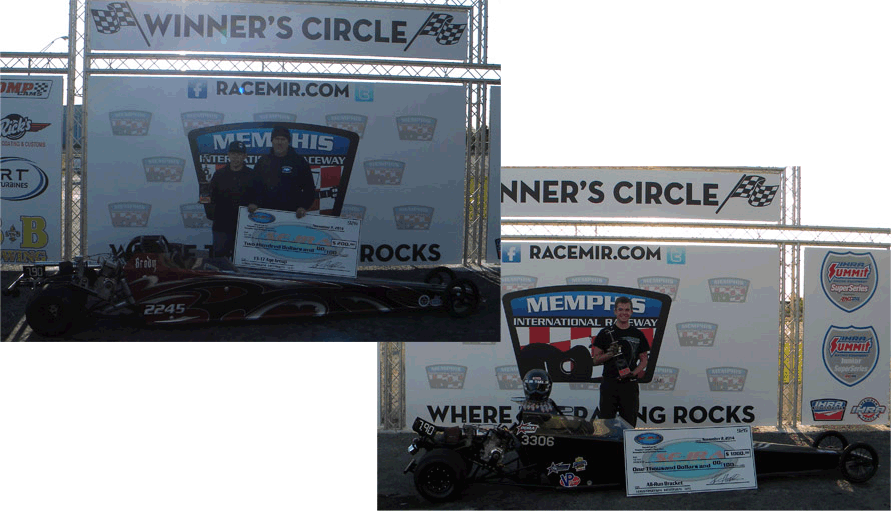 We want to send a big congratulations out to our HP Racers who carried the banner strong at the final points race of 2014 for the South-East Junior Racing Association. Weather conditions were tricky all weekend, but both Preston Tanner and Brody Quick were able to march their HP Combos to the Winner's Circle to highlight the weekend.
Brody started things off right in the 13&Up Age Group on Sunday. He used a string of nice lights and spot on runs to find his way to the Winner's Circle. In the finals he would bring his HP 7.90 Lite Package to the line against Miles Martin and his 2013 HP 7.90 Lite Assassin Turn-Key Car. Brody would get the better of Miles on both ends of the racetrack to grab the race win!
Preston Tanner followed up Brody's performance shortly after by claiming the $1,000 All-Run victory in his 2013 HP 7.90 Lite Assassin Turn-Key Car. Preston was able to use a nice starting line advantage, and a nice 7.920 on his 7.90 dial to earn the victory. That victory nearly grabbed Preston the season long points championship in the All-Run category, but he had to settle for second by a mere 12 points.
We want to congratulate both Racers on a great weekend of action, and a great season for all our HP Racers!
---
Meredith Miller Ends Season Strong, Collects Midwest Series $1,000 All-Run Win at Final Event
Meredith Miller and her HP 7.90 Lite Package were on a tear at the season finale of the Midwest Series. She used a string of great lights, and a very consistent car thanks to crew chief Eric Miller, to collect the $1,000 and Wally trophy!
Throughout the race Meredith was all over the tree, cutting a .008, .015, and .011 light on her way to victory. Her hotrod was just as good as she ran 4 dead on 7.90 passes during eliminations to capture the win. In the finals she met up with fellow HP Racer Emilee Novak in her HP Turn-Key Assassin 7.90 machine. It would be over on the starting line as Emilee went red, but Meredith was on point again with another 7.905 on her 7.90 dial!
Crew Chief Eric Miller had this to say of his driver and HP Combo, "I'm so proud of what she has done this year and hope the good mojo continues next year. I'm also happy that I chose Huddleston Performance for our paackage. Much of the credit has to go to you guys for doing your homework and supplying a winning combination."
We want to congratulate Meredith on a great season, and wish her continued luck in 2015!
---
Miles Martin Caps off Championship Season with Wally Win at Beacon Dragway
Miles Martin has been on a tear in 2014 with his HP 7.90 Lite Assassin Turn-Key Car. This past weekend he added yet another trophy to his collection, this time earning the Wally at Beacon Dragway!
As has become normal for him, Miles marched through the Beacon crowd without a single bump in the road. This time Miles was able to do it at the Beacon Dragway Jr. Challenge event Saturday night. A string of great lights and a consistent ride helped park him in the Winner Circle yet again in 2014.
We'd like to congratulate Miles and the entire Martin team on a great season, and the latest Wally addition to their racing family!
---
Isaac Evans Wins PDRA Pro Jr. Dragster Championship in Fine Fashion, Takes PDRA World Finals Victory Along with Championship
Isaac Evans has been leading the charge for Huddleston Performance for much of the season in the PDRA. His driving, along with great tuning from father Brian Evans, have landed them as the 2014 PDRA Pro Jr. Dragster World Champion in the serie's inaugural season! Isaac drove his way to the championship using one of our latest 2014 HP 7.90 Lite Assassin Turn-Key Cars.
Coming into the final event it was a 3 horse race. Isaac came in leading the points, while Preston Tanner and Alexcis Schultz were trying to chase him down. (All 3 Racers utilizing HP 7.90 Lite Turn-Key Racecars!!) In a weekend that saw a 2 day event turn into a 6 day marathon, Isaac and Brian Evans kept their focus to qualify and race well throughout the event. Isaac wouldn't be denied, as he not only did what he needed to for the Championship, but also marched his way right to the PDRA World Finals event victory!
We'd like to congratulate Isaac on an outstanding season of racing. We'd also like to extend a congratulations to Preston Tanner and Alexcis Schultz on their second and third place finishes in PDRA Pro Jr. Dragster as well as Lexi Tanner for her Runner-Up finish in the PDRA Top Jr. Dragster class! All of these racers were using HP Turn-Key Cars to help in the success of their racing program!