Huddleston Performance Introduces New HP LO206 Packages in Time for the Eastern Conference Finals
As with all the Engine Packages at Huddleston Performance, we wanted to make the LO206 Package as easy to use as possible. After a lot of hard work we now have a complete HP LO206 Package ready to bring to all racers from 5-9 years old.
Much of what has faced the LO206 is the fact that you need multiple contacts in order to get your car going, that is not the case anymore. Our new LO206 Package comes complete with a new LO206 Engine, a Complete Clutch Assembly, and the needed parts for your new combo. (i.e. Air Filter and Header) All you need is a Racecar and a Driver, we can even supply the Racecar if you don't have that!
Our LO206 Package will make its debut at this weekend's Huddleston Performance Jr. Nationals presented by Mike Bos Chassis Craft. Be sure to stop by and check it out if you are in the market for a new LO206. Also, for those of you who know you need this package, call today to order yours and pick it up while at the event! Special Introductory Pricing will be available for this event so don't miss out on saving a few dollars and getting a nice combination to begin your Jr. Career!
---
Huddleston Performance Conference Finals Specials Now Available
That time of year has arrived again, the one time during the season which Huddleston Performance offers specials on some of our biggest products! Below you will see our largest specials, with more small items to be listed as the Eastern Conference Finals approaches. If you are in the market for new Turn-Key Cars, Engine Packages, Engines alone, or Clutches then you will want to call soon to save! This year's Conference Finals Specials are:
**$500 off Turn-Key Assassin Racecar**
** $200 off Rolling Assassin Chassis**
**$200 off AND Billet Carb Upgrade with purchase of Sniper 8.90 or 7.90 Package**
**Billet Carb Upgrade with purchase of Sniper 8.90 or 7.90 Engine**
**$50 off Holeshot Series Clutch**
As always these specials end when both Conference Finals are over. Don't forget that you can call now and get these savings! If you are coming to Bristol in a few short weeks we can even save you shipping by delivering your new toys to the race. Give us a shout to get started on your new Huddleston Performance combination.
---
Huddleston Performance $5k Shootout Ladder Set for Monday, July 21st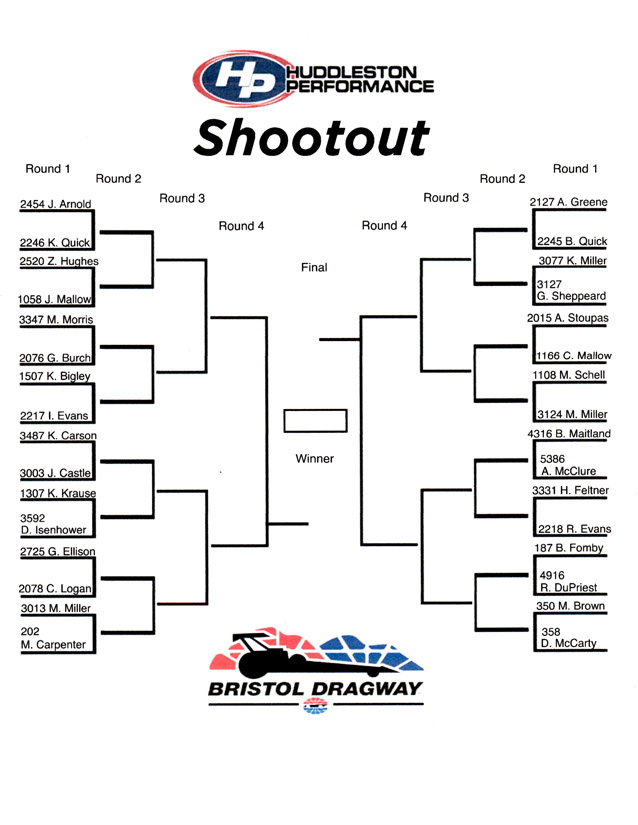 ---
Huddleston Performance Assassin Turn-Key Cars In Stock and Ready For Immediate Delivery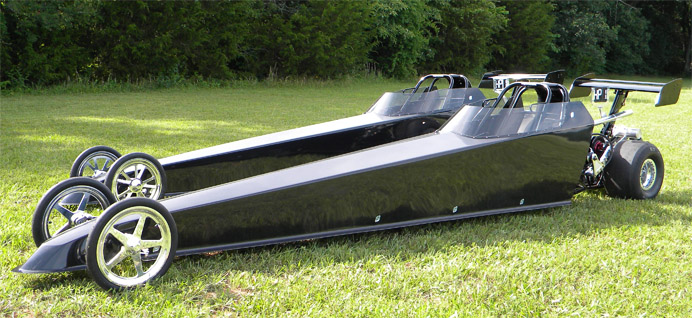 Here at Huddleston Performance we try to keep everything you need for racing in stock and ready to roll. Our Turn-Key Cars are no different. We currently have 2 of our 2014 HP Assassin Chassis in stock and ready for immediate delivery. These cars can be optioned up or down to your specific needs, and can be completed in any of our Turn-Key configurations!
For full details on our HP Assassin rides check out our HP Assassin Chassis page, and for pricing on our base Turn-Key rides visit the Turn-Key Car page! Also, don't forget that we have our HP Nationals Specials going on now, which gives you $500 off and Turn-Key hotrod!
---
Tara Malloy Captures First Race Win in 7.90 Competition at Motor Mile Dragway
Tara Malloy joined the ranks of the 7.90 world early this season. After years of running Huddleston Performance 8.90 Sniper Jr.'s, Tara made the switch to our 7.90 Sniper Lite Package and has already found the Winner's Circle! The first victory came in the 7.90 Index race held at Motor Mile Raceway over the weekend.
In the finals Tara was nearly perfect on the tree with a .006 light and used that to take the holeshot victory. Backing into the competition, Tara put a 7.947 on the board to take home the victory!
Congratulations to Tara and the entire Malloy team on a great win!
---
Blake Hickman Wins IHRA Division 9 Pro AM Event at Piedmont Dragway
Blake Hickman joined the HP team last season and has been winning rounds ever since. This past weekend he picked up one of the biggest wins of his young career at the IHRA Division 9 Pro AM event at Piedmont Dragway.
Using great driving and a consistent 7.90 Lite Package, Blake marched his way through the field to earn the win. In the finals he was a nearly perfect .011 on the tree and pedaled his way to an 8.000 on his 7.90 dial!
Congratulations to Blake and the entire Hickman on a great win!
---
HP Turn-Key Cars Dominate Michigan PDRA Event, Evans Collects Race Win in 2014 TK Assassin Car
Isaac Evans and his team have been strong since making the switch to 7.90. Isaac's HP 7.90 Lite Turn-Key Car has been spot on, and his driving has turned on a lot of win lights. At the fourth stop on the PDRA Tour in Martin, Michigan Isaac took great driving and a great car straight to the Winner's Circle.
The weekend started off strong for our HP Crew as Alexcis Schultz put her 2014 HP Assassin 7.90 Turn-Key Car on the pole position with a perfect 7.900. After that it would be all Isaac and fellow HP Racer Preston Tanner. In the finals Preston brought his 2013 HP Turn-Key Assassin to the line to face-off with Isaac and his 2014 HP Turn-Key Assassin. The finals would prove to be an outstanding race decided by only a few thousandths. Isaac was able to just push Preston further under the Index, taking the win with his 7.890 to Preston's 7.888.
Congratulations to Isaac and the entire Evans team on a very hard fought PDRA Pro Jr. Dragster win!