HP $5K Shootout Ladder Now Available for Week at Thunder Valley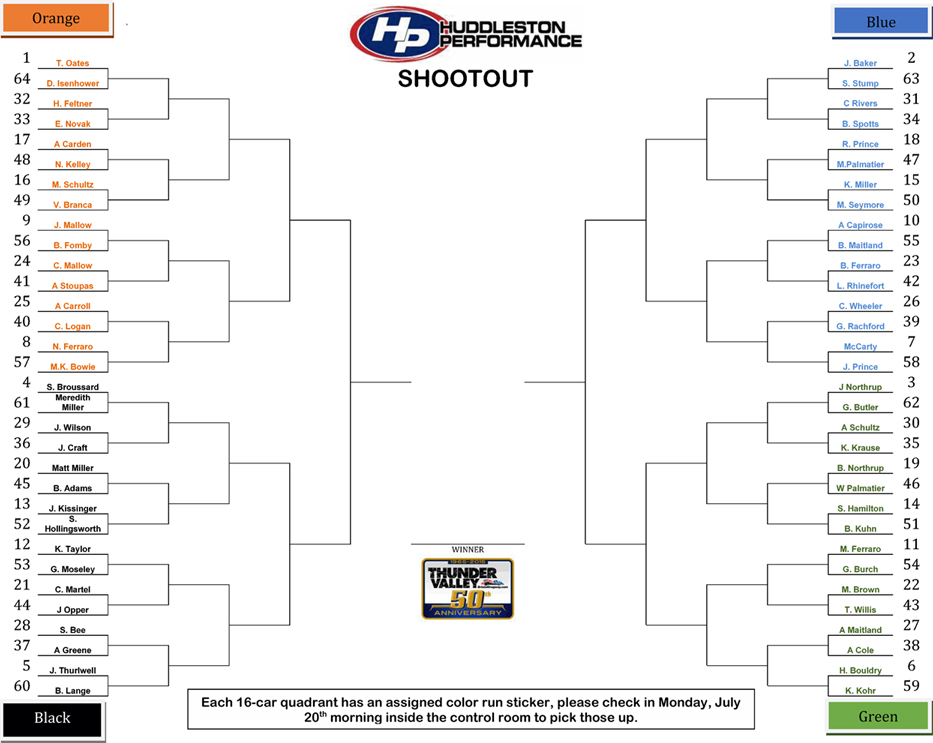 ---
Huddleston Performance Conference Finals Specials Running Now Through End of ECF's, July 25th
It's that time of year again, time to save some money on the highest quality Jr. Dragster components in the industry! Each year during both the Western and Eastern Conference Finals, Huddleston Performance puts their top of the line products on special for racers all over the world. While those in attendance during The Week at Thunder Valley can purchase their products and take them home, racers who may not be able to attend the Mecca of Jr. Drag Racing can still take part in the yearly sale. Simply order your HP Components between now and July 25th and you will get to take advantage of the same great pricing! This year's Huddleston Performance Conference Finals Specials are as follows:
~~ $500 off HP Assassin Turn-Key Cars ~~
(For Full Details on Turn-Key Cars Click Here)
~~$200 off HP Assassin Rolling Chassis ~~
(For Full Details on Rolling Chassis Click Here)
~~ $200 off PLUS Free Billet Carb Upgrade on ALL Sniper Block Engine Packages ~~
(For Full Details on Sniper Engine Packages Click Here)
~~ Free Billet Carb Upgrade ($100 Value) on ALL Sniper Block Engines ~~
(For Full Details on Sniper Engines Click Here)
~~ $50 off PLUS Free Weight Kit ($39.95 Value) on HP Holeshot Bracket Series Clutch ~~
(For Full Details on Holeshot Bracket Series Clutches Click Here)
As is the case yearly, these are the biggest items we have on sale between now and July 25th. We have a number of Assassin Chassis's, Sniper Engines, and Holeshot Series Clutches in stock and ready for delivery now! Don't miss out on these savings, get the championships winning hardware your team needs while they're at these prices.
Also, look for smaller specials during The Week at Thunder Valley on must have items for your Jr. Dragster program! Each year we put together smaller "packaged" specials while we are at Bristol Dragway. You won't want to miss out on those items either!
---
HP $5k Shootout Field Set for Monday during The Week at Thunder Valley
The field is set for the richest 3 hours in Jr. Dragster racing! Coming off of last season's historic HP $5k Shootout success, this year's event is even bigger as the field has been doubled in size to include 64 racers! As was the case last year, the pre-registration was a must see event with all 64 spots filling up in an astounding 4.5 minutes! This year's 64 racers are as follows:
1. Thomas Oates

2. Jordan Baker

3. Jonathon Northrop

4. Shallon Broussard

5. Jake Thurlwell

6. Hannah Bouldry7. Danny McCarty

8. Nicholas Ferraro

9. Josephine Mallow

10. Anthony Capirose

11. Matthew Ferraro

12. Kelsey Taylor

13. Jarrod Kissinger

14. Shelby Hamilton

15. Kaitlyn Miller

16. Mia Schultz

17. Austin Carden

18. Raelyn Prince

19. Brady Northrop

20. Matthew Miller

21. Callie Martel

22. Makenna Brown

23. Bailey Ferraro

24. Charlotte Mallow

25. Kelly Carroll

26. Cameron Wheeler

27. Arabella Maitland

28. Skyler Bee

29. Joshua Wilson

30. Alexcis Schultz

31. Conner Rivers

32. Hunter Feltner

Alternate 1: Lizzie Martel

Alternate 2: Brad Cole

33. Emilee Novak

34. Benjamin Spotts

35. Kaitlyn Krause

36. Jennifer Craft

37. Autumn Greene

38. Ashley Cole

39. Gage Rachford

40. Chad Logan

41. Alexi Stoupas

42. Lori Rhinefort

43. Trenton Willis

44. Jake Opper

45. Blake Adams

46. Wyatt Palmatier

47. Maverick Palmatier

48. Nate Kelley

49. Vincent Branca

50. Mitchell Seymore

51. Braylon Kuhn

52. Samantha Hollingsworth

53. Guy Moseley

54. Gage Burch

55. Brianna Maitland

56. Brady Fomby

57. Maria Kay Bowie

58. Jordyn Prince

59. Kevin Kohr

60. Brandon Lange

61. Meredith Miller

62. Garrett Butler

63. Skyler Stump

64. Devin Isenhower
The HP $5K Shootout takes place Monday, July 20th during The Week at Thunder Valley. These 64 racers will be fighting for a HUGE payday as the Winner will take home $5,000, the Runner-Up $2,000, and each semi finalist $1,000! There will be no time trials prior to the HP $5k Shootout, racers may enter Test-N-Tune earlier on Monday to get passes on the track, but when called for the HP $5K Shootout it will be straight into first round! This is a must see event at Bristol Dragway, you won't want to miss out on 64 of the baddest racers in the land fighting for the biggest payday there is!
Listing above is not pairings, simply the 64 racers in the race.
---
Mitchell Seymore Dominates Southern Survival Event, Earns Two Wally's in One Weekend
Mitchell Seymore has been racking up the round wins in 2015, but none of his race weekend's quite compare to the one he had this past weekend at Music City Raceway in Nashville, TN.
Mitchell came into the weekend with his sights set on capturing a Wally before the weekend was over with his HP 7.90 Heavy Package. He would well exceed those expectations by not only winning Saturday's Wally, but coming back and taking home Sunday's Wally as well! Mitchell and his racecar were on a string all weekend, both worked great together to beat out all of the competition that came their way!
We'd like to congratulate Mitchell and the Seymore Family on an outstanding weekend at the racetrack!
---
Brady Fomby Beats the Heat in Montgomery to Claim SOT Jr. Win in HP 8.90 Assassin Turn-Key Car
Brady Fomby and his team joined Montgomery Raceway Park last weekend for one of the hottest events of 2015 so far! At the end of the weekend the Fomby Family was the only one left standing, and collected the Southern Outlaw Tour race win!
Brady came into the weekend having not raced a ton throughout the course of the 2015 season in his HP 8.90 Assassin Turn-Key car. Driving rust would not be an issue for the young Alabama racer though, as he marched right through the tough field of racers. Brady was all over the tree, and his crew chief had the car on a rail in the hot summer heat to beat out their opponents!
We'd like to congratulate Brady on his win, and beating the extreme Alabama heat!
---
Emilee Novak Continues Winning Ways in 2015, Grabs Midwest Age Group Victory in Paducah
Emilee Novak has been setting the Jr. world on fire early in 2015! She has been mowing through competition all over the country in her 2013 HP 7.90 Assassin Turn-Key car, and Paducah was no different for her and her team!
Coming off a victory in Cordova just a few weeks ago, Emilee came into Paducah ready to take another win! At the end of Sunday's action she had done just that by grabbing the win in the 13-17 Age Group. A string of great lights and an ultra consistent hot rod helped her to yet another race win this season!
We'd like to congratulate Emilee and her team on yet another great win in 2015!