Hannah Taylor Starts 2014 Strong, Takes HP 8.90 Assassin Turn-Key Car To Victory at MMP Super 7 Event
After a few months out of the seat, Hannah Taylor got back to action at this weekend's Montgomery Motorsports Park Super 7 event in fine fashion. She worked through a tough field of 30+ Jr. entries to bring home her first victory of the season. A string of great lights and a consistent racecar helped to put her in the Winner's Circle at the opening event.
In the finals Hannah took a sizeable starting line advantage with a nice .040 reaction time. That would be more than enough, as a nice top end pedaling job helped her capture the win and the nice $500 payday with her HP 8.90 Assassin Turn-Key Car.
Huddleston Performance would like to congratulate Hannah on a great weekend, and an awesome start to her 2014 season!
---
SEJRA To Kick Off 2014 Season with $5,000 To Win All-Run at U.S. 43 Dragway in Ethridge, TN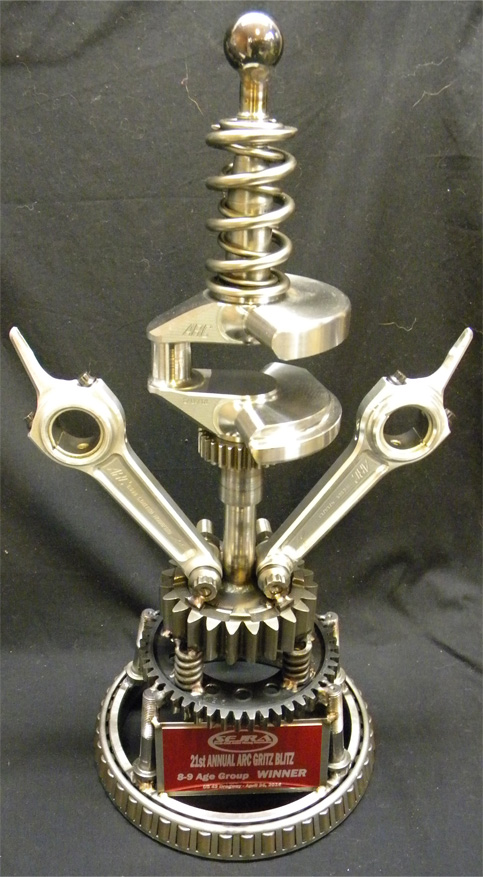 Huddleston Performance is proud to continue our support and involvement with the SEJRA. The 2014 Season is just around the corner, and they're starting this year off right. Their first event will be held at U.S. 43 Dragway in Ethridge, TN and will incorporate some new ideas to current Series' Racing. The 21st Annual ARC Racing Gritz Blitz will be highlighted by a $5,000 to Win All-Run event with a GUARANTEED purse on the race. As if that wasn't enough, the incredible custom trophies shown above will also be awarded to the Champions in each class.
The SEJRA is also putting their foot forward on helping to grow the younger children's program. In the 8&9 Year Old Age Group racers will receive FREE ENTRY for their class. Not only that, but the Winner will also receive the same great trophy as other classes receive. (Free entry is on Car/Driver only.)
For full information about the event and racetrack visit www.S-EJRA.com or with any questions email us at Thomas@HuddlestonPerformance.com.
---
HP Racers Dominate Opening PDRA Event, Tanner Brings Home Top Jr. Win While Caulder Secures Pro Jr. Victory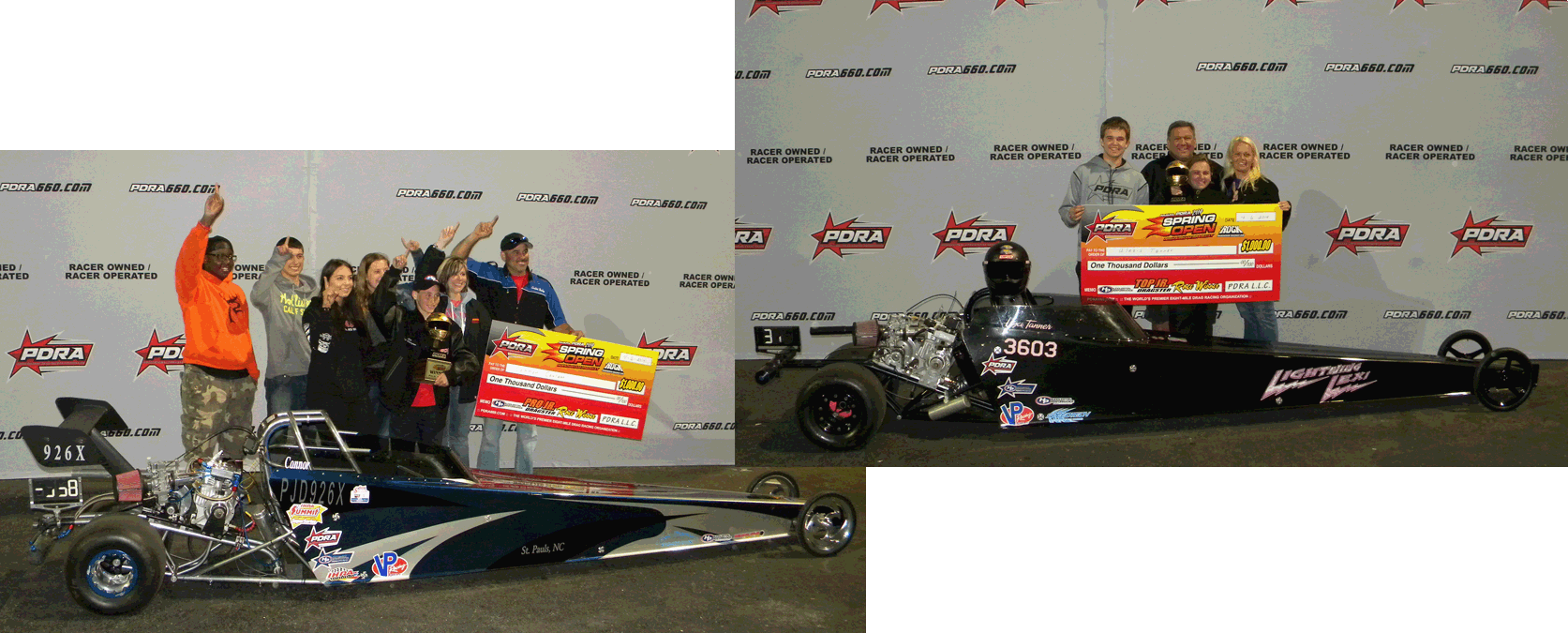 When the newly formed PDRA was first introduced, Huddleston Performance quickly signed on as the Title Sponsor of the Jr. Program. Between both the courtesy and professionalism they have shown thus far toward the Jr. Racers, we knew it would be a great fit for our Racers and our Company. After stepping into the Title Sponsor position, our Racers took that seriously and came out ready to do battle at the first race of the season.
Lexi Tanner opened things right by marching her way through the Top Jr. Dragster Field of competitors. Being qualified based on reaction time, Lexi came into the race in the #5 position. She fought through the opening rounds of competition to find herself sitting in the championship round of competition. When the tree fell she was able to take a sizeable starting line advantage; and with some nice top end pedaling she was able to capture the win light and a piece of history. Huddleston Performance is proud to have helped power Lexi to the first ever Top Jr. Dragster win in PDRA history with our HP 8.90 Sniper Jr. Package.
The second class offered within the PDRA is the Pro Jr. Dragster class. Qualified based on the closest to a 7.90 Index, this field of racers were some of the tightest ever seen! After HP Racers took top honors in qualifying with a nearly perfect 7.901, it was time to race. Connor Caulder came out ready to take home the prize with his HP 7.90 Sniper Lite Engine. After qualifying in the #5 position with a great 7.905, Connor was able to use consistent lights and a nearly perfect car all day to find the Winner's Circle. In the finals he met up with fellow HP 7.90 Sniper Lite Package racer Rebekah Evans. Conner gave up a slight starting line advantage, but his racecar would not be denied as it ran closer to the 7.90 Index to take home the race win!
Huddleston Performance is proud to have partner with the PDRA to help supply such outstanding race venues for Jr. Racers. Congratulations to all of our Winner's and #1 Qualifiers, we look forward to making this a trend throughout the 2014 season!
---
Alexcis Schultz Takes Brand New HP 7.90 Assassin T/K Car to Pole Position at Opening PDRA Event
Over the winter the Schultz team made the switch to complete Huddleston Performance Assassin Racecars. Both Alexcis, and younger sister Mia, took delivery of in stock 2014 HP Assassin Cars just last week. Only having a week to prepare for the opening PDRA event, the Schultz team worked hard and showed up to the inaugural event ready to race.
A great turnout of Jr.'s for the opening race of the PDRA made it tough for any competitor to make their way to the top of the list. However, on only it's 6th pass down the dragstrip ever, Alexcis Schultz put her new HP 7.90 Assassin ride in the #1 qualifying position with a nearly perfect 7.901. For some comparison, the Top 16 qualifiers were between a 7.901 and a 7.915!
Huddleston Performance would like to congratulate Alexcis and her team on working hard to get to the race, while staying focused to take home the #1 qualifier award!