Huddleston Performance Increases PDRA Presence with Purchase of Infamous "Lowmad"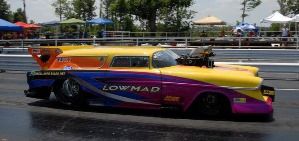 (12-11-14) PITTSBORO, NC - Several companies took the leap with the Professional Drag Racers Association as they stepped out for their debut in 2014. One of those companies was Huddleston Performance, who sponsored both the Pro and Top Junior Dragster categories. Huddleston Performance is one of the front running companies for Junior Dragster racing, providing turn-key cars, engines, clutches and a full line of components for racers all over the world. Now Huddleston Performance mastermind, Bo Huddleston, and his team are ready to increase their PDRA involvement by debuting a new Pro Boost team and increasing their sponsorship involvement.

Bo's son Thomas, a former junior driver himself, will pilot the Pro Boost car, which will be strikingly familiar to professional eighth mile followers. A few short days ago, the Huddleston family purchased the famous "Lowmad," a 1955 Chevrolet Nomad machine, previously campaigned by David Elsberry's team.

Thomas Huddleston, now 28, was a proficient Junior Dragster driver in his day, racking up quite a list of awards, race wins and championships. After his Junior Dragster days, Thomas focused on schooling, earning his college degree before coming back to Huddleston Performance where he now works as their main engine builder. Prior to this new chapter, Thomas piloted a number of bracket dragsters and spent time behind the wheel of a nitrous-breathing Outlaw 10.5 ride.

"We started off looking for a car to compete with in the PDRA," Bo began, explaining how the Pro Boost team came to be. "We were thinking one of the sportsman classes, but the appeal of those classes wasn't there for us personally The PDRA is all about heads up racing, and we've spent many years in different heads up arenas. So then we started thinking that if we are going to heads up race we want to do it with something unique. That led us down the road that ended with a meeting with Mr. David Elsberry, new owner of Montgomery Raceway Park."

Huddleston continued, "We originally went down to look at a pair of cars Mr. Elsberry had for sale. The first being a '63 Corvette he had and the second being the original Lowmad. After some discussion we had pretty well settled on the '63 'vette, even though in our eyes it lacked the 'curb appeal' of the older Lowmad. That was when Mr. Elsberry pulled back the cover on the newer Lowmad we've all seen compete in Pro Extreme. After some discussion about it, he was kind enough to offer her up to us as the next 'Caretakers' in its storied history. As a family we knew immediately that this wasn't an opportunity we could pass up. We certainly want to take the chance to thank Mr. Elsberry for giving us the opportunity to carry on the Lowmad for years to come."

Huddleston bought the car nearly turn-key and had a mostly ready made Pro Boost operation within a few hours. "I literally thought I was going to buy a rolling car and have to go get a motor and transmission and all the other stuff. By the end of it, I had purchased the majority of the car. We went from Sunday morning not having the main piece needed to run a race team to Sunday evening having the majority of what we needed in one purchase. And for that to happen three days before the PRI starts - well, some of us work well under pressure, so here we are."

On the business side of things, Huddleston Performance will increase their sponsorship level and maintain a greater presence at PDRA events.

"We've been a supporter of various series and races for a long time," Huddleston explained. "While we always want to be a major sponsor of in the Junior world, we really wanted to branch out in a way that didn't feel like we were 'preaching to the choir' so to speak. We still want to support those races, but we want to hit the untapped markets as well. With the PDRA's ticket model, it draws a person that maybe can't purchase a new Pro Mod, but very well may be interested in a Junior Dragster for their young driver. It seemed like it would be a good fit for us. And it turns out that's correct. We get asked questions that only those who haven't been around the sport a lot would ask. The truth is you want those questions to be asked because that tells you the guy you're talking to is new, and we just get inundated with that when we go to PDRA events. So it's been a really good fit for us. One thing I've got to say is that we've really been welcomed by the PDRA bunch. I feel like we're a very small fish in a very big pond and nobody treats us that way. They've put a good organization together. This one is the real deal.

"For 2015 we have upped our sponsor level. We're now sponsoring one of the TV spots next season. I can speak for everyone in the shop when I say we're excited about this opportunity to grow our exposure through the PDRA. To be able to take Junior Drag Racing to a place it has never been before is thrilling for all of us at Huddleston Performance.

"I feel like it's a great connection," Bo added. "Many of the junior racers we come in contact with hope to one day compete in a professional class with the PDRA. They have the dream of growing up to be a Pro Mod driver. That's a big part of the draw for starting out with the PDRA for them. So to now have a former junior driver in Thomas living the dream, so to speak, is pretty cool."

The Huddleston family plan on testing the Lowmad in February in preparation for the PDRA season opener at Texas Motorplex March 20-21.

For more on Huddleston Performance, visit their website: http://www.huddlestonperformance.com/ or check them out on Facebook at www.Facebook.com/HuddlestonPerformance.

For more on the world's premier eighth mile drag racing organization visit www.pdra660.com. Follow the PDRA: Facebook, Twitter, Instagram, Youtube.
---
Latest FAQ: I Need Big Horsepower, Can Huddleston Performance Custom Build Me a Heavy Package?
Over the years Huddleston Performance has become a leader in the Horsepower and Consistency department. While we offer our Championship Winning Packages listed above, we are more than happy to tailor a higher horsepower package for 11.90, 8.90, or 7.90 competition.
Finding more horsepower is not a struggle with the HP Packages listed above, however finding horsepower in the correct way as to not lose consistency is more difficult. Track proven ways of increasing horsepower without sacrificing consistency is what Huddleston Performance is about. Sometimes these performance increases are a simple change, while other times it takes a revamping of your combo to get the optimal results, regardless of your situation we have put it on the race track before and won with it.
If you are in the market for a higher horsepower setup, give us a call to discuss options. Whether is it a slightly different port configuration on an 11.90 motor for larger racers, or needing to step up to a bigger motor in general for 7.90 racers, we will take all the time necessary to discuss your specific combination and come up with the Championship Combo for your team.
---
New HP Assassin Black Ops Series Turn-Key Car Makes Debut at SEJRA Left-Over Nationals

For weeks now we have been telling you it's coming, and now the time has come for the arrival of the new HP Assassin Black Ops Series machine! This new ride is set to be the slickest Jr. Dragster to ever hit the dragstrip bar none. Custom options from one end to the other make the Black Ops Series ride stand out without a drop of paint on it!
The first thing you notice about the Black Ops Series Assassin is the sleek Carbon Fiber Body, what you may not see right off is the introduction of our new Carbon Fiber Canopy! As you look deeper you will see the car splashed in Gunmetal Grey and Satin Black all over. The Chassis, Rear Wing, Front Wheels, and Beadlock Wheels are all a very nice Gunmetal. While the Beadlock Rings, Weight Bars, Rear Axle Assembly, and Front Beam Breaker are all Satin Black to contrast nicely. Every inch of the Black Ops has been worked over to give it the most crowd appeal of any Jr!
For full details and to order your new Black Ops Series Assassin, call us today!
---
Brody Quick Dominates SEJRA Season Finale, Grabs 2 Race Wins in One Weekend
Brody Quick has been a force to deal with at any race track since joining the HP Team back in his 8.90 days. Now that he has stepped into our HP 7.90 Lite Package he has truly began to shine as a racer. Over the years Brody has collect wins and championships all over the country, and this past weekend's SEJRA Left-Over Nationals was no different.
Brody started the weekend off right by marching through a tough field in the $1,000 All-Run class to grab his first win of the weekend. That wouldn't be enough though, Saturday Brody again beat out the competition to grab the 13&Up Age Group victory!
We want to congratulate Brody on a very strong ending to his 2014 season!
---
Miles Martin Repeats at Beacon Dragway, Earns Second Straight Track Championship
The 2014 season has been a good one for Miles Martin. He has collected wins all over the place in his 2013 HP Assassin 7.90 Lite Turn-Key Car throughout the season, enough so that he earned the Beacon Dragway Track Championship this season! This is a repeat performance for Miles who was also the strongest competitor and Track Champion at Beacon last season!
We want to congratulate Miles on his great season, we look forward to his continued success using Huddleston Performance hardware!
---
Alexcis Schultz Continues Great 2014 Season, Takes Iron Man Classic at Sumerduck Dragway
Alexcis Schultz has had a great 2014 season since taking delivery of her 2014 HP Assassin Turn-Key Car. A number of wins throughout the East Coast, and a number of #1 qualifiers at the PDRA, have made her a threat at any event she attends.
This past weekend her team made the relatively short drive to Sumerduck Dragway for their Iron Man Classic. After a long day which saw Alexcis having to be victorious in 6 rounds, she found herself in the Winner's Circle yet again. This time she had earned one of the most prestigious trophies in drag racing, the IHRA Iron Man.
We'd like to congratulate Alexcis and her team on an outstanding year of racing!