Huddleston Performance $5K Shootout to Anchor Bristol Dragway's Week at Thunder Valley Again in 2016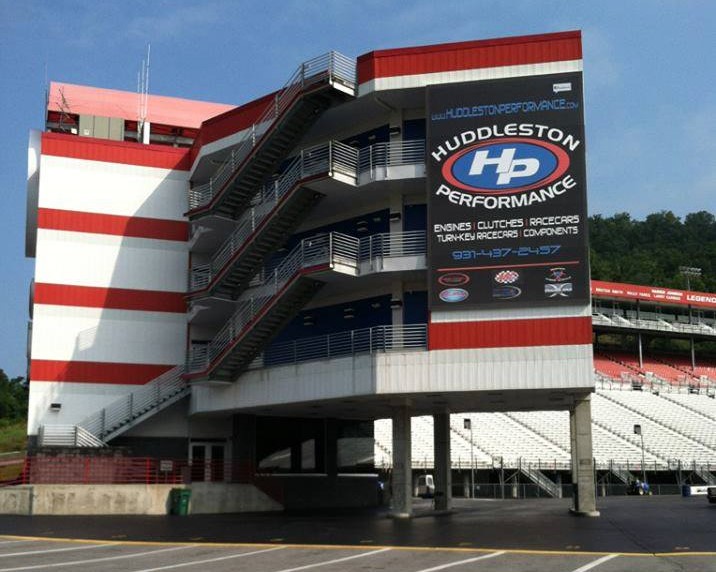 In 2016, the Huddleston Performance Shootout is back by awarding not only $5,000 cash to the winner, but also $2,000 to the runner-up, while semi-finalists will take home $1,000 each.
The race, slated for 5 p.m. on Monday, July 18, features a 64-car field competing in true shoot out style. The first two rounds of eliminations will be random pairing with contestants going on a ladder at 16 left.
Entry fee for the race is $225, and no time trials are scheduled for the race. No Refunds. No Entry Transferals. No Double Entries.
If full 64-car field does not get filled we will take the first 32 entries and payout $5,000 to the winner.
The registration for the HP Shootout will be online through Events.com. Registration will open Thursday, June 23rd at 10 a.m. EASTERN time. Be sure to mark your calendars as this event has sold out in less than 5 minutes then previous 2 years!
---
Gage Rachford Finds First Career Winner's Circle with HP 8.90 Sniper Jr. Package
Gage Rachford has been racking up the round wins since becoming a Jr. Racer. He hadn't quite been able to break through for his first victory, but that all changed Saturday night!
Gage drove the wheels off his hotrod Saturday to grab his first ever race win. A string of great lights and consistent finish line driving helped him to earn a trip to the Winner's Circle. In the finals, Gage had a nice .078 light, and was right on his dial to get past the competition and earn his first race winning hardware with his 2016 HP Sniper Jr. Package!
We want to send a HUGE congrats out to Gage and his entire team on grabbing one of the most memorable wins of any Jr. Racers career!
---
Taylor Phann Grabs Wally at Music City Raceway with HP Turn-Key Assassin
Taylor Phann has been collecting race wins left and right since jumping in her 2015 HP Assassin Turn-Key Car. Mostly racing at Middle Tennessee Dragway, Taylor and her team branched out to Music City Raceway this past weekend to try to bring home a Wally.
When the dust settled that is exactly what they did! Taylor marched through a tough field of racers, including her brother Trent Phann and his HP 7.90 Turn-Key Car in the semi finals. In the finals Taylor put on a driving show for the competition. She knocked the tree over with a nice .034 light, then paired that with a dead on run to leave no room for the competition!
Congratulations to Taylor and the entire Phann Team on a great outing, and earning a Wally!
---
Mia Schultz Continues Winning Ways, Grabs Victory at Royal Purple Raceway with HP Turn-Key Car
Most drivers need a period of adapting when they move from 8.90 to 7.90 competition. That has not been the case for Mia Schultz in 2016, as her move up has been seamless thus far!
Mia has already continued to find the Winner's Circle a number of times early on this season. This past weekend she found it yet again, even while fighting tricky weather conditions! A string of great lights, great top end driving, and the right calls by her crew chief allowed her to park her 2015 HP 7.90 Lite Turn-Key Assassin in yet another Winner's Circle!
We want to congratulate Mia and her team on yet another hard fought race win.
---
HP Racers Dominate Gateway International Raceway, Metternich and McGinnis Grab Jr. Thunder and Lightning Wins

Jake Metternich and Clayton McGinnis have started off 2016 in dominant fashion at Gateway International Raceway. Both racers utilize HP Engine/Clutch Packages for their consistent hotrods, Jake using an HP 8.90 Sniper Jr. Package while Clayton dominates with an HP 7.90 Lite Package.
Jake kicked things off by grabbing yet another win Saturday. He put together a day full of strong runs to find the Winner's Circle. In the finals, he was first off the starting line and pedaled his way to victory. His 9.01 on an 8.91 was more than enough to earn another piece of hardware for his collection.
In the older age group, Jr. Lightning, it was Clayton McGinnis putting on a clinic yet again. In the finals he was first off the starting line, and did a perfect driving job as he closed the finish line down to just .035 for the race win! This marked the second week in a row for Clayton to find the Winner's Circle!
We want to congratulate both racers on great outings. Great driving, great crew chiefing, and outstanding hardware continued to put both teams in the Winner's Circle!