Mia Schultz Rocks IHRA Nitro Jam, Earns First Ironman of 2015 in Bradenton, FL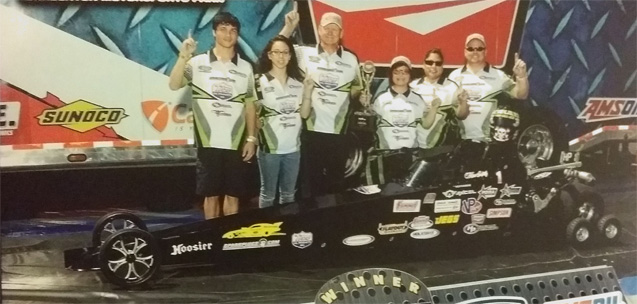 Mia Schultz and her team have won all over the country over the past few seasons. Her HP 8.90 Sniper Jr. Turn-Key Car has found more Winner Circles in a few years than most will ever see. Her latest victory came all the way in Bradenton Florida at the IHRA Nitro Jam event!
Mia and her team traveled all the way from Virginia to join the IHRA party in Florida. After a long haul like that, Mia made sure the family took home the hardware to make the trip worth while. A string of nice lights and a consistent car provided by Crew Chief Shawn Schultz, gave Mia more than enough fire power to capture the Ironman Trophy for the long ride home!
Congratulations to Mia and the entire Schultz team on finding their way to yet another Winner's Circle!
---
Andrew Green Uses Great Packages to Park Himself in Byron Dragway Winner Circle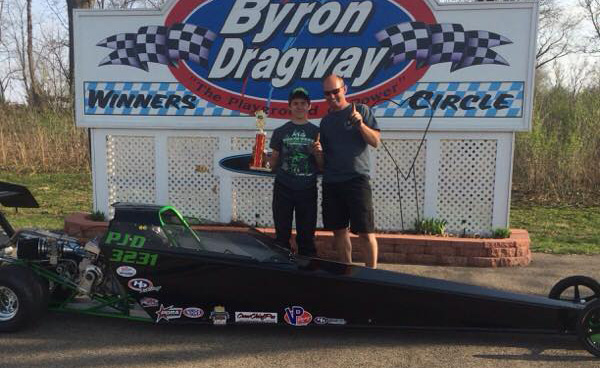 Andrew Green and his team have become known for hitting some of the bigger events in the country, and being contenders everywhere they go. However, on their off weekend's they still like to have some fun at their local track, and this past weekend Andrew found the Winner's Circle at one of them!
Andrew and Crew Chief Ben Green have been putting together better and better packages with their HP 7.90 Sniper Lite Package over the past 2 seasons. After collecting some race wins in 2014, Andrew came out strong to start his 2015 campaign by grabbing the race win at Byron Dragway this past weekend. A string of nice lights, and a consistent racecar helped park another in the Winner's Circle yet again.
We want to congratulate Andrew and his entire team on another great victory!
---
Michael Ruark Crushes National Trail Raceway In First Outing of 2015 with HP Sniper XL
Over the winter Michael Ruark and his team stepped up their horsepower level by converting to one of our HP Sniper XL 7.90 combos. Planning on doubling up in bracket and quick 16 competition, Michael started the season off strong by grabbing the first victory at National Trail Raceway in bracket trim!
Michael put together a great string of reaction times and e.t.'s to grab the win! Crew Chief Dave Raurk had this to say of their first outing, "The car ran 7.93 all day. Thanks for everything you do for us. He averaged a 0.19 on the tree and went 5 rounds. In the finals Michael had a .002 light for the win!".
Congratulations to Michael and his team on the first of many victories sure to come in 2015!
---
Cade Poe Continues Dominant Ways on West Coast, Collects Another 7.90 Victory At ANRA Season Opener
Cade Poe is continuing to make life hard on racers on the West Coast. After dominating the 8.90 world for the past few years with his HP 8.90 Sniper Jr. Package, Cade has moved up this season to the 7.90 ranks. While his HP 7.90 Sniper Lite Package may be a different animal, his winning results haven't changed!
This time it was Cade collecting the season opening win of the ANRA. Cade, a former champion of the series in his 8.90 days, marched through a tough field of competitors to find himself in a familiar spot. This win marks the third victory for Cade already in 2015!
We want to congratulate Cade and the entire Poe Team on yet another awesome outing!
---
Over Kill Motorsports Joins Lowmad Team for 2015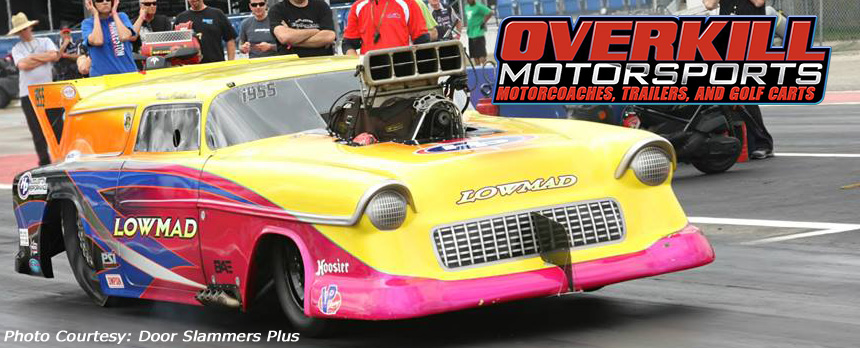 Over Kill Motorsports continues to diversify their Marketing Partners in 2015. After joining forces with Top Fuel Stand out Clay Millican earlier this season, Owner Mitchell Clary and the Over Kill Motorsports family have now partnered with the PDRA Pro Extreme Entry of Thomas Huddleston, known as Lowmad.
A leader in the racing transportation world, the Over Kill Motorsports team is known for supplying high quality Motor Coaches, Race Trailers and Custom Golf Carts to racers all over the country. The newly formed partnership with the Huddleston Performance Lowmad team makes Over Kill the "Official Transportation Source" of the PDRA Pro Extreme favorite.
Lowmad Driver Thomas Huddleston is thrilled with the opportunity to work with the Over Kill Motorsports Team, "Mitch and I grew up together in the Jr. Dragster arenas. For us to watch Mitch and his family start Over Kill Motorsports, then watch the brand grow over the years has been great to see. To be able to team up and try to take down this tough Pro Extreme field is an exciting thing. To do so with such a historic car as the "Lowmad" is even better for both of us. We are looking forward to working with Mitch and his team in 2015!"
Mean while, Mitchell Clary had this to say about the newly formed partnership, " After about a year discussing the possibility of joining forces with Huddleston Performance I am very excited that the time has finally come. Having the opportunity to partner with my friend of over 15 years while expanding Over Kill's reach into yet another area of the racing world, is simply incredible. Not to mention how proud it makes me to have a partnership with such an iconic racecar as the "Lowmad". 2015 is shaping up to be our best year yet!"
The Lowmad Team will be running the PDRA and the Southern Outlaw Tour in 2015. You can stop by and check out their Overkill Motorsports trailer at any of the events. They will be happy to answer any question you may have, or put you in contact with the Over Kill Motorsports group for your needs.
Check out all the Over Kill possibilities on Motor Coaches, Trailers and Custom Golf Carts at www.OKMotorsports.com .